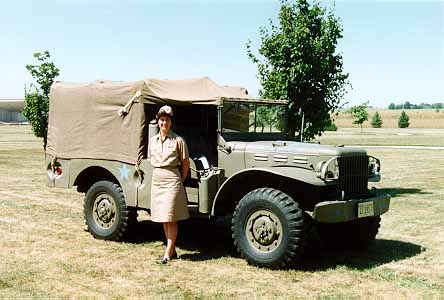 WC51 WEAPONS CARRIER
INTRODUCTION
A need existed for a larger vehicle than the standard U.S. Army 1/2 ton truck developed prior to World War II. The 1/2 ton vehicle proved too light for most mission requirements and, in 1941, the Dodge WC 3/4 ton truck was born. Developed by the Fargo Motor Corporation (A subsidiary of Chrysler Corporation) the WC (weapons carrier) 51 is a 4X4 general purpose truck. The WC52 is identical with the exception of a winch. Other famous variations of the vehicle were developed including the WC53 carryall, the WC54 ambulance, the WC59 signal corps vehicle and the WC56 command car. ENGINEERING CHARACTERISTICS The 3/4 ton body was equipped with seats so that both soldiers and supplies could be carried in the back. Some WC51's had 37 mm cannon mounts, resulting in a somewhat ineffective tank destroyer. The vehicle is equipped with a non-synchromesh 4 speed transmission. The engine is a Dodge 6 cylinder, 230.2 cu.in. displacement, L head with 92 horsepower at 3200 rpm. USAGE IN WORLD WAR II The vehicle was utilized in a wide variety of roles in both the Army and Navy. It was used throughout all theaters of World War II and with other armies such as the British and French. Weapons carriers can be seen in historical photos carrying equipment on the beaches of Normandy, hauling supplies throughout Europe, servicing ships at Navy bases and loading ordinance onto aircraft. The WC51 remained in use with NATO countries and only recently is being retired after over 50 years of service. The WC51 was the predecessor of the M37 3/4 ton truck used throughout the Korean War.



                         ADDITIONAL TECHNICAL DATA

                       Length...........13 ft. 11 in.
                       Width.............6 ft. 10 in.
                       Height............7 ft. 1 in.
                       Weight............5675 lb.
                       Maximum Speed.....45 mph
        


WC52 WEAPONS CARRIER, same as WC51 except for the winch

Copyright 1995 Charles C. Roberts, Jr.